Serving K-W Radio Amateurs Since 1922

The Wednesday Morning Group
Christmas
by Larry Gorman VE3LGN
The "Radio Club", as they call us at Martin's Restaurant in Luther Village, Wednesday Morning Coffee Group, held its annual Christmas party on December 10 at Martin's restaurant in Luther Village.
Colleen and Kim again served as our gracious hostesses. The luncheon attended by 25 members and spouses, was a buffet with choice of meats, baby carrots and mashed potato with real beef gravy. This was preceded by a tossed salad, and was topped off with coffee and delicious blueberry trifle.
Santa in the form of Norm VE3DEQ, had small gifts for everyone. But the major prize, won by Hube VA3BIQ and his wife, was a certificate for a dinner at Martin's Restaurant!
Gord VE3NQK was almost ready to leave when it seemed that his number would never appear. He was finally rewarded with a rather large Christmas wrapped package. A big thanks to Norm and Mary for their efforts to make this our best Christmas Luncheon ever.
Larry VE3LGN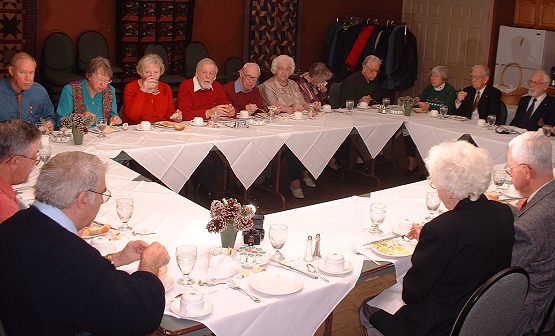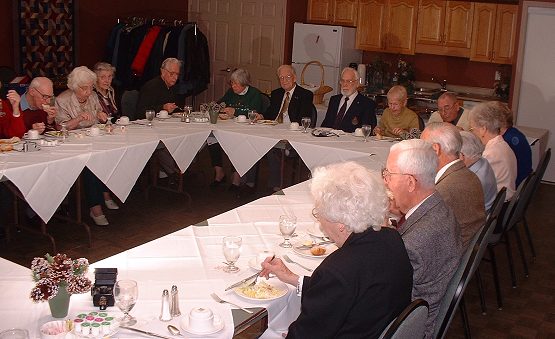 Merry Christmas to all from the Wednesday Morning Group
| | |
| --- | --- |
| | |
| The Gorman's with hosts Mary and Norm Perault | Paul SY (left) discussing with Ron DBD (standing) and Gord NQK about who pays for lunch |
| | |
| --- | --- |
| | |
| Hubbie and Eileen Stumpf our winners of dinner for two at Martin's | Richard LZV draws another lucky winning number |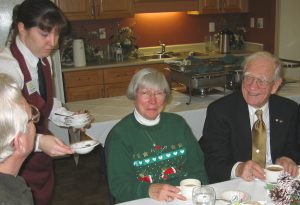 Collen serves the Bexton's dessert
This page uses frames, but your browser doesn't support them.