Date:
Friday December 20, 2002
Time:
11:30 with meal at Noon
Price:
Still only $14.00 including tax and gratuity
Includes:
Salad Bar, Hot Buffet, Deserts & Door Prizes
Location:
Transylvania Club (downstairs)
16 Andrew St
Kitchener Ont.
(behind central Meat market)
Previous Lunch Photos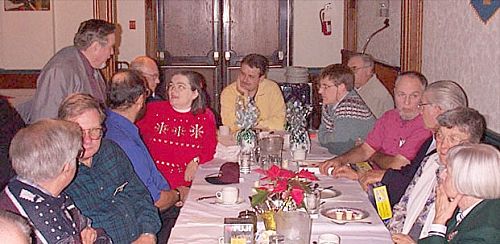 (L-R) Harold VE3DWH, Bob VE3XM, Gord VE3EOS, Bob VA3MCK (standing) Ben VA3BNY, Linda VA3LWH, Tedd VE3TJD, Glenn VA3DGS, Roger VE3RKS, Ed VE3TCK, Ron VE3DBD, Jean VE3CBQ, Mrs VE3XM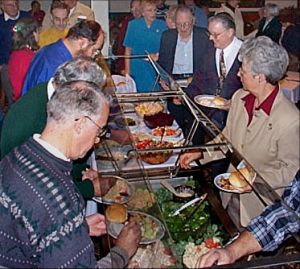 Last year we had over 45 folks join us at the Transylvania Club for our 13 annual Christmas Luncheon. Great fellowship, Great Food and Great Prizes.
Enjoying a trip to last years buffet is Dave VE3CSB, (Harry EIX's head?) Gord VE3EOS, Greg VE3NXB, Peg Bodman, Drew VE3AOR, Fred VE3MTS, and Ruth Hicks.
THIS YEARS EVENT
Be sure to reserve your tickets early for this years luncheon. Tickets will be available at the December meeting or at Lazer Audio in Baden. Reserve tickets for pick-up at the door by contacting Tedd or Ben at e-mail address below.
LOCATION
Once again your hosts Tedd VE3TJD and Ben VA3BNY have chosen the Transylvania Club on Andrew Street just off King St East and behind Central meats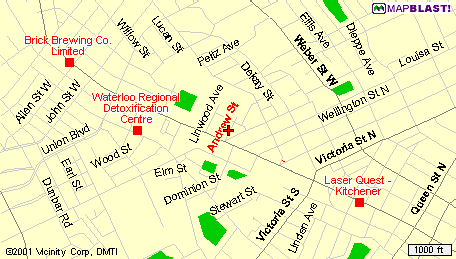 DOOR PRIZES
This years luncheon again will feature numerous door prizes. Thank you to all of the following contributors.
Charlie Tease VE3WRH of MRC Wireless

Tedd Doda VE3TJD of LAZER Audio in Baden

Marg Cassel VE3RE Zehr Insurance

Erb Transport, New Hamburg

Hammond Manufacturing, Guelph

RadioWorld your Christmas Candy Store

Jamieson Car and Truck Rental

Agropur Fine Cheeses

Carol VE3IYY and Gord VE3DBP

Britton Automotive, Elora

Office Depot on Weber St in Waterloo

DWD Security Inc.

Baden Computer Service

Patene Building Supplies
IF YOU CAN HELP WE STILL NEED ADDITIONAL PRIZES.
Contact Tedd or Ben
We both look forward to seeing everyone there on the 20th.
de Ben VA3BNY es Tedd VE3TJD
your 2002 Lunch Coordinators